Vision Statement
Who we are, What we do
Our vision is to excel as a leading 'Tools and Engineering Company' offering range of metal forming and material processing solutions for Hobbyist, Professionals and Industrial segments.
Mission Statement
What we aspire to be
To be the best in class manufacturer in the sector and delight our customers with superior offerings.
About JK Files & Engineering
JK Files & Engineering Limited, a subsidiary of Raymond Ltd, is engaged in the business of manufacturing, sale and distribution of precision engineered components for tools and hardware such as steel files and drills, and marketing, sale and distribution of hand tools, power tool accessories and power tool machines and through its' subsidiary, Ring Plus Aqua Ltd. (RPAL), it is into manufacturing, sale and distribution of auto components and engineering products such as ring gears, flexplates and water pump bearings which are high precision components.
With customer centricity being at the core, our customer base comprises of business-to-business ("B2B") as well as business-to-consumer ("B2C") segments spread over 60 countries spanning across Asia-Pacific, Africa, Latin America, Europe and North America. Given our widespread reach, exports contribute to over 50% of our combined business.
Tools & Hardware Business
Our Tools & Hardware business enjoys leadership position as the world's largest manufacturer of steel files with a dominant share of over 25% of global capacity in 2020, and a presence in over 55 countries. Being the market leader in the files segment in India, the Tools and Hardware business commands a market share of over 60% by sales volume in fiscal 2021.
With trusted relationships that are built over the past seven decades, the business has earned a repute as a manufacturer offering expansive and versatile range of custom made files and tools as per BS, FS, ISI and DIN standards or as specified by customers. Given the strong presence in the Asian, African and Latin American regions and itis the largest brand in the African market with a market share of over 50% by volume in steel files in 2020.
In addition, it is amongst the leading players in the drills segment in India.
JK Files & Engineering has five state of the art ISO 9001-2015 certified plants strategically located at Ratnagiri & Chiplun in Maharashtra, Pithampur in Madhya Pradesh and Vapi in Gujarat. All plants are equipped with in-house rolling mills that ensure premium quality as well as easy product availability with wide spread of SKU's in the market. Our strong commitment to quality has helped us build an enviable reputation even in technologically advanced markets like Europe, USA and UK.
The Tools & Hardware business exports files and drills to Europe, Latin America, Africa, North America and Asia-Pacific under our own brand as well as white labelled products. Exports contribute to over 45% of our business.
The brand 'JK' extends its rich legacy of technological know-how and expertise in manufacturing files and drills to quality products in Hand tools and Power tools categories. With a product portfolio includes a wide variety of handheld electric powered and non-powered tools such as Marble Cutter, Angle grinder, Impact Drill, Electric Drill, Cut-Off Saw, Pliers, Wrenches, Hammers, Spanners, Screw Drivers, Iron Jack Planes, Hole Saw, Hand Hack Saw Blades, TCT Circular Saw, Sockets etc. It is the endeavour of the business to simplify laborious tasks carried out by professionals such as carpenters, masons, plumbers, electricians, metal fabricators and MRO industry with high degree of efficiency and superior quality. The Tools & Hardware business currently supplies 3200+ active SKU's in Files, 1600+ SKU's in Drills, 500+ SKU's in Hand and power Tools accessories and 300+ SKU's in Power Tool Machines.
Building resilience through a resilient supply chain ably supported by local warehouses aligned to strong dealer distributor model. Our pan-India distribution network consists of over 730 active distributors with a retail reach of over 150,000 outlets spanning over 600 towns in India.
Auto Components and Engineering Products
The Auto Components business commands highest volume share of over 50% in the domestic passenger vehicle ("PV") industry and over 45% in the domestic commercial vehicle ("CV") industry in terms of supply to original equipment manufacturers ("OEMs") for domestic production in Fiscal 2021. It is amongst the key players in the ring gears industry globally.
By leveraging long-term presence in tailor-made ring gears and long-standing relationships with OEMs and Tier-1 suppliers to OEMs, the business has been able to develop a strong presence in the manufacturing of flexplates and water pump bearings.
RPAL is the sole domestic manufacturer of flexplates in India and catered to over 25% of the flexplates volume demand for PV domestic production in Fiscal 2021.
With a capability to manufacture over 750 stock keeping units ("SKUs") of ring gears, flexplates and water pump bearings, with varied applications in the automotive industry such as PV and CV, the business also has a presence in non-automotive industry such as construction and mining equipment, tractors, industrial power generators and lawn mowers.
RPAL operates three manufacturing facilities in India located in the industrial belt of Nashik, Maharashtra, which are involved in the manufacturing of ring gears, flexplates and water pump bearings. RPAL also operates five warehouses across Canada, United States and Germany. Given its strategic location and close proximity to OEM and Tier-1 suppliers to OEMs enables in fulfilling just-in-time delivery schedules, achieve economies of scale and logistical advantages for our customers, and to insulate them from local supply or other disruptions.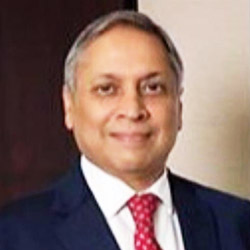 Ravikant Uppal
Chairman
He has been a director on our Board since April, 2019. He is also the Chairman of Ring Plus Aqua Ltd – a subsidiary of JK Files & Engineering Ltd, Managing Director of Steel Infra Solutions Private Ltd and on board of Transport Corporation of India Ltd.
He is a graduate of the Advance Management Program from The Wharton School, University of Pennsylvania. He holds a degree of Bachelor of Technology in Mechanical Engineering from IIT, Delhi and has done Post Graduate Diploma in Business Administration from IIM, Ahmedabad.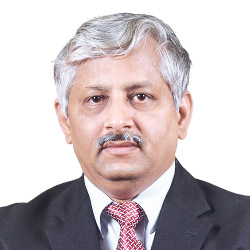 Balasubramanian Vishwanathan
Managing Director
Balasubramanian has been a Director on our Board since November, 2020. He has overall 35 years of experience and was working as a Whole-Time Director in Ring Plus Aqua Limited.
Prior to joining the Raymond Group, he has worked in Brakes India Limited and Bosch Group for 25 years. He holds a degree in Bachelor in Science (Mechanical Engineering) from University of Delhi and a post graduate diploma in Business Administration from Loyola Institute of Business Administration. He has also attended the Managers for Leadership Course at Leeds University Management School.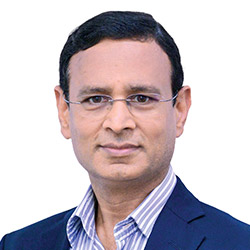 Hukumchand (Hemant) Chandratan Lakhotiya
Chief Executive Officer of the Tools and Hardware business
Hemant joined our Company in January, 2021. He has over 25 years of experience with various global companies. Prior to his association with our Company, he was associated with Schneider Electric as Regional Vice President – Equipment & Transformers for APAC Region. Earlier, he worked with Crompton Greaves in various leadership roles in multiple geographies. He holds a degree in Bachelor of Engineering (Electrical) from Amravati University where he was a gold medallist at Government College of Engineering. Hemant also holds a degree of Master of Technology (Industrial Management) from Indian Institute of Technology, Bombay.
Arun Agarwal
Chief Financial Officer
He is the Chief Financial Officer of JK Files & Engineering Ltd since November, 2021. He has been associated with the Raymond Group since January, 2016. He has over 21 years of experience in accounting and finance. Prior to joining our company, he was associated with various corporates including Jindal Iron & Steel Company Limited, Raymond Apparel Limited, Gomukhi Indus Capital Advisory Private Limited and Raymond Limited in his earlier stints. He is an Associate Member of the Institute of Chartered Accountant of India and holds a degree in Bachelor of Commerce from University of Rajasthan.